Blue Signal Identity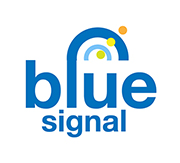 Challenge :
Modern-day placement agency; focused on recruitment assignments for the Telecom Industry and sales-related services. Identity needed to portray communication, a technological look and feel and a fresh color palette.
Solution :
Blue was chosen obviously to reinforce the name of the company, but also because the color was a familiar and accepted color for technology sectors. A sans-serif font face completes the direction, with radio signal-like waves emulating from the letter forms, in support of the telecommunications target audience.